Completed in 2006, the Chesapeake Boathouse was the first structure to grace the banks of the newly revitalized Oklahoma River. Hailed by many as a landmark presence, the boathouse was designed to react with the water and to reflect the spirit of rowing in Oklahoma. A rowing shell on the prairie, exquisite in its simplicity. Today, the Chesapeake Boathouse anchors the Boathouse District and serves as a community boathouse and was named the 'Best Designed Building in Oklahoma' by Architectural Digest in 2019.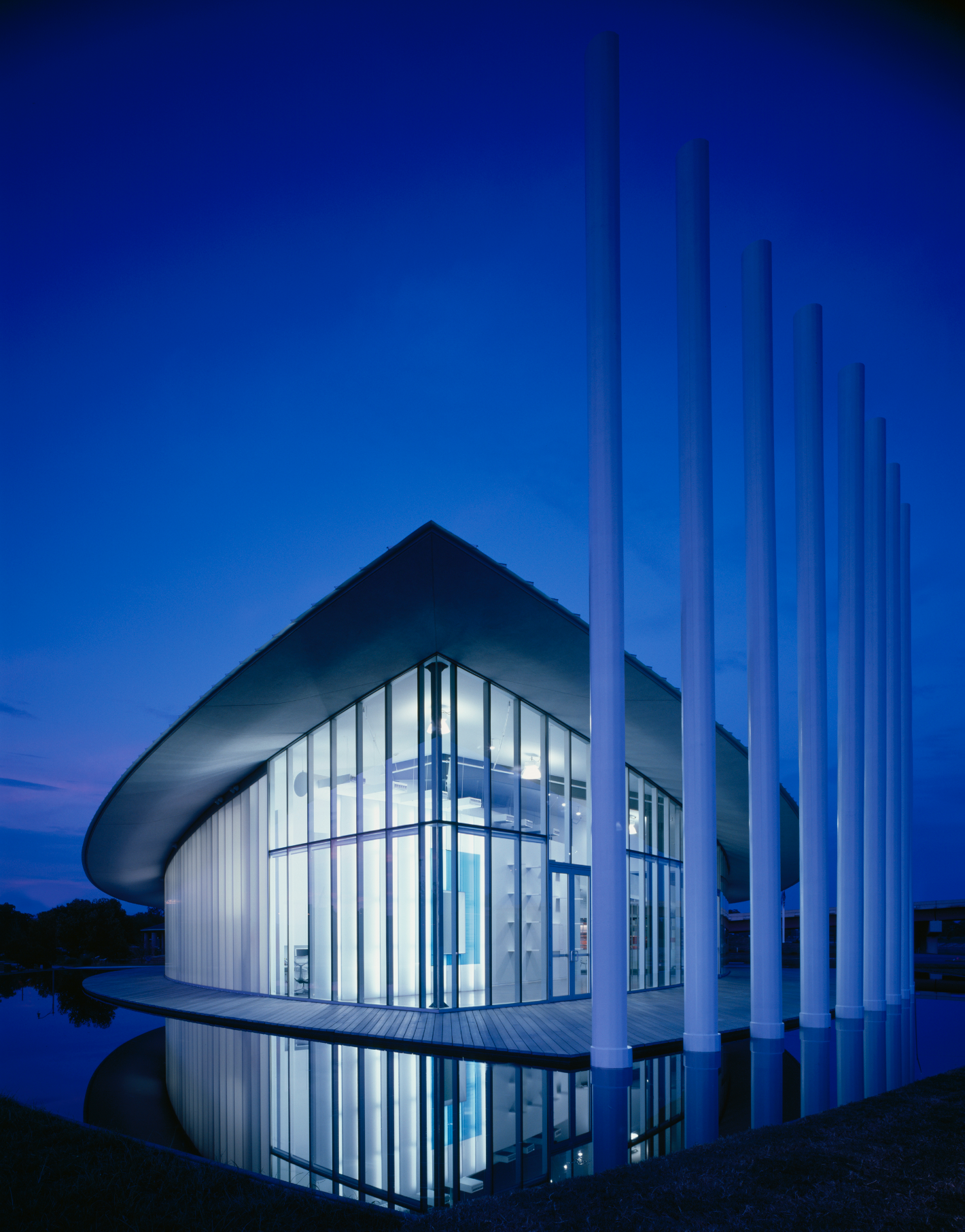 In 2004, a $53-million MAPS project rejuvenated the Oklahoma River, creating a seven-mile, dam-controlled body of water. While the river wasn't on the minds of many, the rowing community saw its potential and began working with business and civic leaders to establish a rowing facility on its banks. As the first boathouse on the Oklahoma River, we wanted to break away from traditional boathouse design for the Chesapeake Boathouse and create a new standard that envisions the future of rowing.
The Chesapeake Boathouse is inspired by the art of rowing shell construction – a marriage of strength and grace. It embodies the spirit of the sport using inspirations from the sleek shells made of carbon fiber, fiberglass, and Kevlar with the raw aluminum oar outrigger frames, the featherlight oars and the small skeg.
"Make it light, needle thin and fast"
– Rand Elliott, FAIA –
Rand Elliott Architects
The building's steel frame features a taut polycarbonate skin and a white standing-seam metal roof allowing the building to glow with energy as the sun sets. An outdoor deck and reflecting pool were developed to expand the functional space of the structure and to connect the boathouse, both physically and visually, to the river. Dramatic night lighting creates the illusion the building is floating above water.
The boathouse functions as a multi-purpose facility with a focus on training and rowing events. From the lobby, visitors are placed close to the water and the boats with a panoramic 24-ft wall off glass overlooking the deck, river and reflecting pool. Inside the conference room a 62′ long window places the rowing shells in storage on display.
Chesapeake Boathouse accommodates 36 athletes and includes a fully equipped fitness/training facility with locker rooms. Boat storage is available for up to 124 rowing shells and opens directly to the river and dock area.
"Twenty years ago, I laughed along with others at the idea of a String of Pearls along the river, but just look at the Oklahoma River now. It used to divide the city, and now the river unites us."
Client: Oklahoma City Boathouse Foundation
Scope: Site: 1,503-acres / Building: 14,578 SF
Services: Architectural Design, Interiors
Completion: 2006
Best Designed Building in Oklahoma, Architectural Digest
International Architecture Award, Chicago Athenaeum
AIA Oklahoma, Honor Award
American Architecture Award, Chicago Athenaeum
AIA, Central States Region, Honor Award of Excellence